Why CheerSounds?
It is the Sound of

Cheerleading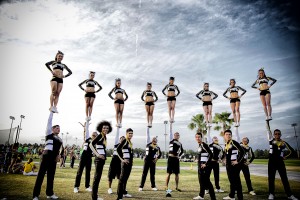 Cheerleading music is not an afterthought. It is the choreography's counterpart. It is a reflection of the team's purpose, image and values delivered through a performance of sounds and lyrics. The creation of cheerleading music is an art, and the sound is refined over time.  CheerSounds creates the sound of modern cheerleading music. Listen to any of our mixes and you will hear the difference that our proprietary sound library can make. Larger impacts, fuller mixes and multiple voice over artists are just some of the exclusive CheerSounds features.
It is the Sound of
Reliable Service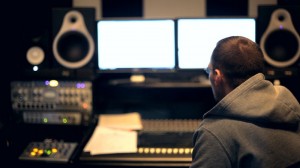 Cheerleading music is not an impulse-buy. It is planned and scheduled. It requires thought, team involvement, artist involvement and many hours of production. Cheerleading music is depended upon by the athletes, the coaches, directors, gym owners and the parents. Cheerleading music can not be late, and CheerSounds is always on time.Our schedule is maintained on almost an hourly basis, and our team keeps up to ensure voice overs, music and mixes are completed in time for your delivery. Not to mention, we have the best customer service in the industry- available by phone, email, fax and post, M-F, 9-5 EST to assist you with your music!
It is the Sound of
Teamwork
Cheerleading music is not a one-person job. It involves more than music producers and cheerleaders. It is the product of the relationship between our team and the client's team. Our work represents your work, and your work represents our work. We are proud to have made so many meaningful relationships in the cheer industry. Our team is looking forward to providing our best music to you for many more years!
Listen to
Our Sound

and Hear for Yourself

CheerSounds creates a few different styles of music, and there are several samples below for you to listen to. Our flagship products are custom and premade cheerleading music mixes. All of which are made with our proprietary sound library, exclusive voice overs, and more customization options than any other cheer music company! See, or rather, hear, for yourself:
*PLAYLIST COMING SOON*
A Letter From
The Owner
CheerSounds was born out of the cheerleading industry and the music industry. This makes us rather different from traditional cheerleading music mixers, because our core philosophy has always been to influence cheerleading with music and influence music with cheerleading.  Both of these industries are examples of talent, hard work, training and even artistic ability. Merging them together and creating balance is what I like to describe as "your routine".
I started cheering at 20 years old in 2005 while studying music industry  and computer science in college. A friend and I created the mix for our team at Northeastern University (Boston), but I never realized it would set the trajectory of my career. Over the following several years, we continued creating music – some specifically for cheerleading – and began coaching at a small all star gym in Massachusetts.  Some years elapsed, I finished my studies and entered the work force, but our concept (our version) of cheer music continued to develop. In 2010, CheerSounds was officially formed (coincidentally having no relation to the defunct "CheerSound" singular) and our melding of music production and cheerleading style continued to take shape.  By 2012, our "home grown" sound library was released in the form of a few hundred mixes, and the response was overwhelming. Coaches loved the richness of the mix: sounds, music and lyrics that were fuller than they had ever heard. Athletes connected with the lyrics and took ownership of their team, their routine and their performance. Gym owners were elated with our hassle-free method of "taking care of the hard part" and delivering the music on time. The rest is history!
The company that is CheerSounds proper has evolved into an industry leader of cheerleading music services, as well as becoming a leadership and mentoring entity.  Through our passionate involvement with the United States All Star Federation (USASF) and other various cheer organizations, we aim to make an impact on the industry and help brighten the future for many athletes!
On behalf of everyone at CheerSounds, I am proud to say that We Believe In Fair Pricing. All of us believe that the good will generated by playing fairly and being responsive to our customers is more valuable to our business than short-term profits. You won't find a $3,000 product on our site, because we have found no justifiable reason to have one, even with handling the payroll for the largest team in the cheerleading music industry.
We never forget where we came from. Our musicians strive to please cheer coaches, gym owners and athletes with our music productions.  Our customer service staff is eager to schedule, process and deliver orders on time and as-expected. Best of all, I am very proud to lead such a spirited, dedicated and talented staff of professionals in the fields of music and cheerleading.  We eagerly look forward to working with many more patrons, atheletes, coaches and future-leaders of the Spirit Industry!
Carmine Silano