Make

your own.

Anyone can build a cheer mix with 8CountMixer. Drag-and-drop songs, sound effects and voice overs onto an 8-count sheet, and press play to hear it instantly!
Download

a mix.

Browse our budget-friendly library of cheer mixes and download your favorite instantly! These mixes can also be customized with voice overs.
Order a
Custom

mix.

Let us create something specific for your team with our 10 vocalists and multiple producers. Life-changing stuff; you'll never go back to your previous music.
Our
Spectacular Staff

is happy to help!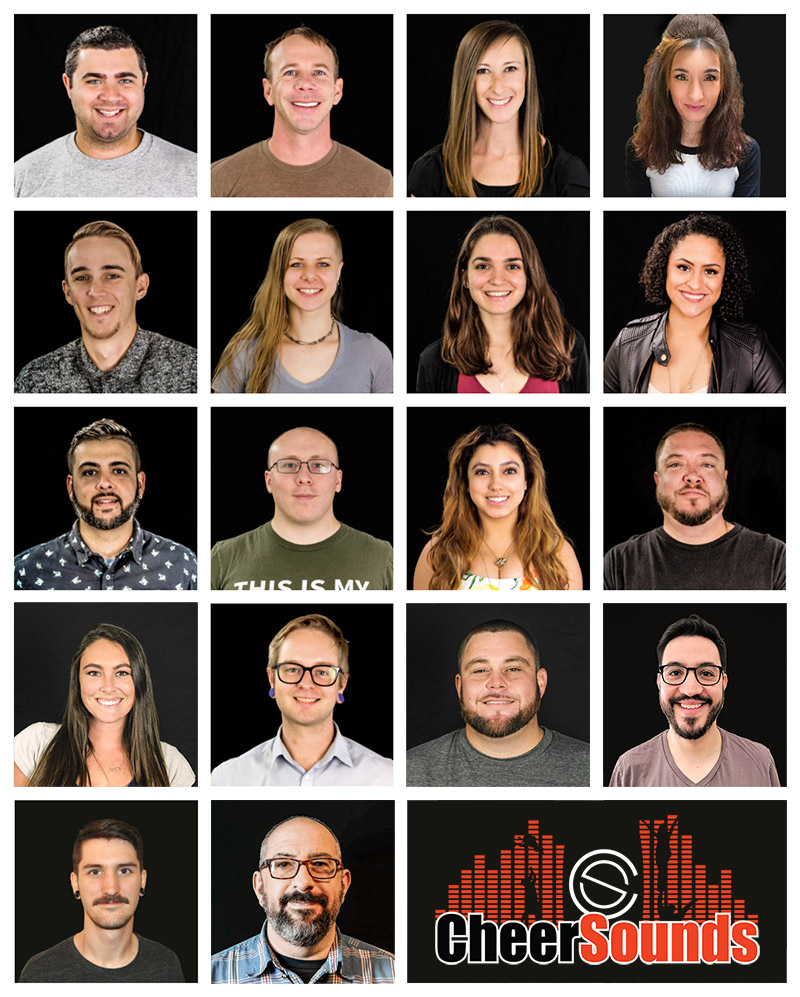 They even smile like that in real life!
But we're actually
producers.
CheerSounds is a group of music producers and engineers chosen by Carmine Silano to achieve one goal: Advance cheerleading music to a respectable level.
Each candidate is held up to the talents of any other producer in the music industry. They are tested on production knowledge, relative pitch, theory and efficient workflow. Forget about part-time cheer coaches cutting up iTunes songs. We're here to create music.
Here's The Scoop.
We are born from cheerleading, music production and software. This combination gives us the ability to create a unique approach to cheer music production.
The problem we unanimously saw was that cheer music was not matching the caliber of performance happening on stage. It was time that cheerleading music stepped up its game to rival other stage performances and productions.
No more sitting on the sidelines. We have the experience, we have the resources, and we have the music in our minds. Now, our job is to merge our ideas into your choreography.
Our build-your-own-mix platform, 8CountMixer, is the worlds' only online cheer mix builder, and it's chock-full of millions of dollars of cheer remixes. Our best work is in your pocket, so just pull out your phone and try out 8CountMixer for FREE! It's the only platform that allows you to instantly hear your cheer mix edits from your phone!
There's the whole copyright compliance thing, too, but we won't bore you with those details. We're honored and excited to be the first USA Cheer Preferred Music Vendors, and hold the title of Official Music Provider of the USASF!
Stats.
65394

Customers

18

Employees

39

Artists

210

manhours per day

35

coffees per day

1346

red bulls per year
A Summary.
I have not stopped listening to the music since you sent it to me. I am absolutely in LOVE with it. You guys went above and beyond. It is more than I would have ever expected. All the little details with the love and obsession theme are just perfect. The girls are...no pun intended...obsessed with it. It makes them feel like a worlds team with such a custom mix. Even the parents are impressed. I cannot say enough good things about it. I'm just blown away. I have used you guys every year since I started coaching, and you by far have the best combination of quality and customer service. You definitely have yourself a long time customer here. Please pass on my message to the producers and artists as well. Let them know we could not be happier with the final result.