Your shopping cart is empty!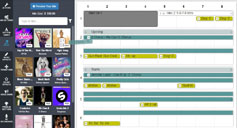 8 Count Mixer
The only drag-and-drop 8 Count sheet that lets you build a cheer mix with songs, voice overs, raps, sound effects and hear it instantly!
CheerSounds Store
Quick and easy...
"My experience was perfect. Quick and easy and I loved it!!"
Jami
awesome...
"Thank you so much!! This mix is AWESOME and is exactly what I imagined! You are the best and I really appreciate your hard work!! I can't wait for my cheerleaders to hear the finished product! Once again, you all are awesome and thank you so much for your excite customer service!! :)"
Whitney
...amazing music!
"I am so pleased with your company. Great service and amazing music! I did 3 mixes this season and everyone is so happy with them for once we pleased everyone coach and parent! I will forever be a customer!"
Maggie
Very Happy Coach...
"Just wanted to let you know I was able to use your AWESOME site and did my music today :-D Very Very Happy Coach – THANK YOU SO MUCH!!! We will use this next year as well!!"
Lori
6905 N Wickham Rd, STE 102 Melbourne, FL 32940

Phone: 321-559-8400

Email: info@cheersoundsexpress.com
Sign up for our newsletter!
​