Your shopping cart is empty!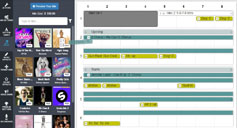 8 Count Mixer
The only drag-and-drop 8 Count sheet that lets you build a cheer mix with songs, voice overs, raps, sound effects and hear it instantly!
CheerSounds Store
...too good to be true
"Your company is honestly too good to be true. I scrolled through the rest of providers we could choose from for our league this year, and others just don't compare. Between cost and an easy site to use, hands down yours is the best. Very Happy Customer!"
Samantha
awesome...
"Thank you so much!! This mix is AWESOME and is exactly what I imagined! You are the best and I really appreciate your hard work!! I can't wait for my cheerleaders to hear the finished product! Once again, you all are awesome and thank you so much for your excite customer service!! :)"
Whitney
I love your music...
"I loved your music, the voice overs that you added and the amazing price that you offered"
Elizabeth
...customer service...
"I really enjoyed using your website. It was easy and the customer service was wonderful. I had a few questions I needed answered and the representative answered everything in a manor that I could understand. Our music arrived in less time then projected which was wonderful! I was worried that the name of our school would be said wrong however it was correct. That was a nice surprise… Thanks again and we will be using you guys again."
Denise
6905 N Wickham Rd, STE 102 Melbourne, FL 32940

321-559-8400

info@cheersounds.com
Sign up for our newsletter!
​