Your shopping cart is empty!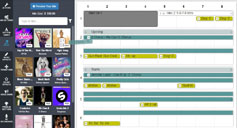 8 Count Mixer
The only drag-and-drop 8 Count sheet that lets you build a cheer mix with songs, voice overs, raps, sound effects and hear it instantly!
CheerSounds Store
AMAZING...
"You are all absolutely AMAZING & have the most outstanding customer service & support I have had the pleasure of dealing with in a very, very long time.THANK YOU from the bottom of my heart you have truly earned a lifelong customer who will refer as much business as possible to you."
Tami
...stroke of genius...
"I just want to say your company is amazing! The prices are reasonable, the 8 count mixer is a stroke of genius, and you're all very helpful! Really appreciate all you do! Bravo! Recommending you to everyone I know!"
Jessica
...many times to come
"Thank you for always being easy to communicate with. Much appreciated! I know that we will be using you many times to come."
Carly
...customer service...
"I really enjoyed using your website. It was easy and the customer service was wonderful. I had a few questions I needed answered and the representative answered everything in a manor that I could understand. Our music arrived in less time then projected which was wonderful! I was worried that the name of our school would be said wrong however it was correct. That was a nice surprise… Thanks again and we will be using you guys again."
Denise
6905 N Wickham Rd, STE 102 Melbourne, FL 32940

321-559-8400

info@cheersoundsexpress.com
Sign up for our newsletter!
​