Your shopping cart is empty!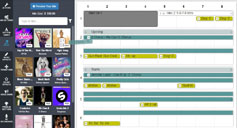 8 Count Mixer
The only drag-and-drop 8 Count sheet that lets you build a cheer mix with songs, voice overs, raps, sound effects and hear it instantly!
CheerSounds Store
AMAZING...
"You are all absolutely AMAZING & have the most outstanding customer service & support I have had the pleasure of dealing with in a very, very long time.THANK YOU from the bottom of my heart you have truly earned a lifelong customer who will refer as much business as possible to you."
Tami
...love the mix...
"Thank you!!! We love the mix and will definitely be using your service again!!!"
Sharell
...in a time crunch...
"Thank you so much for the amazing mix that you made for my squad this past season! The girls were absolutely in love with it. This year I was in a bit of a time crunch with music because the person who has made my music in the past backed out last minute. Your team was able to get me my music before the 2 week turnaround time."
Sara
...spectacular!
"Last season was my first season using your services, and I thought it was spectacular! It was so convenient and our girls loved the music! … I think y'all are awesome, keep up the good work!"
Rhonda
6905 N Wickham Rd, STE 203 Melbourne, FL 32940

321-559-8400

info@cheersounds.com
​