Your shopping cart is empty!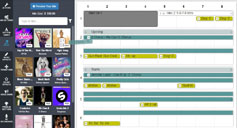 8 Count Mixer
The only drag-and-drop 8 Count sheet that lets you build a cheer mix with songs, voice overs, raps, sound effects and hear it instantly!
CheerSounds Store
THE BEST!
"Just have to say you all are on it!!! THE BEST!"
Michaela
You were fast...
"You guys are awesome! I will never go to another DJ for my cheer music again! You were fast, and did a great job! You just don't understand how hard I have been trying to find a company like yours. Thank you for your special attention."
Coach Benson
...many times to come
"Thank you for always being easy to communicate with. Much appreciated! I know that we will be using you many times to come."
Carly
...they are different...
"You guys have done our mixes for two years and we love them!! They are different then anything else at state!! Thanks for the great work!!"
K Cheer
6905 N Wickham Rd, STE 102 Melbourne, FL 32940

321-559-8400

info@cheersounds.com
Sign up for our newsletter!
​